Breedlove Social is a luxurious boutique social media agency based in the metro Detroit area. We have over five years of experience helping clients expand their online presence organically while strengthening their brand awareness. Our agency specializes in Instagram & Tik-Tok marketing.?
New York, Los Angeles, and Singapore are common areas where our clientele is based. We know how social media can cause a lot of stress for business owners. At Breedlove Social, we pride ourselves on offering hands-free social media management to relieve stress and give business owners more time. Our clients have been on shows such as NBC?s ?The Voice and ABC?s Duets.? We have experience managing: artists, nonprofits, doctors, restaurants, and more. We are highly skilled in adaptability.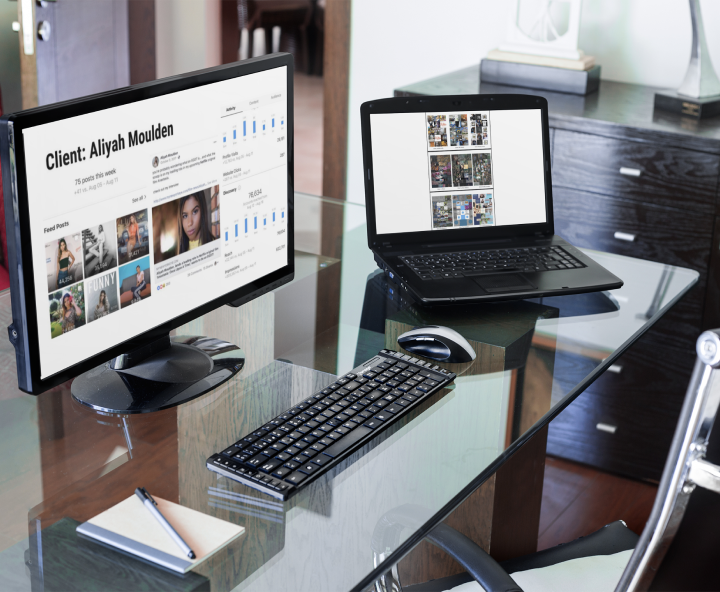 ABOUT THE OWNERS OF BREEDLOVE SOCIAL
Breedlove Social was founded in 2015 by Maven Breedlove, MBA. Maven has a primary background in Psychology. He graduated with a Bachelor of Science from Central Michigan University and then attained his Master of Business Administration from the University of Arizona Global Campus. A few years later, he would be accompanied by his now fiance, Jazz B, a local entrepreneur and social media strategist, in managing their social media agency.
Our Values: Innovation | Authenticity | Dedication | Organization?
Headquartered in Detroit, MI
Teia Wallington Owner of I Love Publicity
"Breedlove Services is our secret weapon for producing remarkable social media campaigns for our clients. Our company has utilized their services for several years, and because of their knowledge of analytics, understanding of audience behaviors, and creativity, we were able to create magic together! We highly recommend Breedlove services for all things social."
Christine Asst Marketing Manager at Kopifellas Group | Singapore & New York
"Breedlove Social gives me peace of mind, knowing that our social media accounts will be taken care of and that they can help us establish our online presence in the American market. I love the content that they create for us and how it relates to our growing audience."
Micah C. CEO & President of Alpha Aviation | Morristown New Jersey
"We have worked with Breedlove Social going on two years and we appreciate the attention to detail and thought put into managing our social media accounts. Maven & Jasmine are highly committed to their clientele and it shows in the work they do for us." We appreciate the care invested into our social channels."
Blythe Tyler President , CARE House of Oakland County
"Working with Maven from Breedlove Social is a breath of fresh air. His ability to know what we wanted and to quickly execute the project was fantastic. I love working with people like him- who listen closely, do the research, and develop and implement a plan with only minor adjustments necessary. I can't wait to have the opportunity to work with Breedlove Services again."
Angela Rogensues Council Member , City of Warren
"Maven from Breedlove Social was great to work with on my campaign for City Council. He was creative, timely and responsive. He captured original photos and wrote content to accompany those photos on my social media channels. He helped me navigate social media sponsored ads which was really helpful. "
Sonna Life Coach
"Breedlove Social has been a big help with maintaining my Instagram account. It's just one less thing I have on my plate."
Jessie Beld Elliott CEO of JesMia Creative
"JesMia has had a relationship with Breedlove social founder Maven Breedlove for almost 3 years now and we are all thrilled for the launch of this new endeavor. The dedication to their ever-evolving craft Is something to be reckoned with… Breedlove's creativity driven discipline is an asset to any creative organization."
Dr. Emily Levin Partner at Northwest Dermatology
"I typically hate doing social media for myself and for business. Over the last year I have enjoyed working with Breedlove Social compared to previous contractors. Maven and his team capture our workplace culture perfectly. We are constantly getting compliments on our social media and our clients are always looking to see what's next."
Gary Baglio Owner of Pronto Diner
"Breedlove Social has been a big help in branding our restaurant on social media. One of our favorite things about working with Breedlove Social is having direct access to the account managers."
Daniela Walters Main Street Pontiac E-Board
"Our nonprofit has been with Breedlove Social for over a year. We love how adaptable they are in marketing all of the Downtown businesses in addition to executing innovative strategies that help us increase our visibility online. We know that our social media accounts are one less thing to worry about in the hands of Breedlove Social."